FEATURED ARTICLE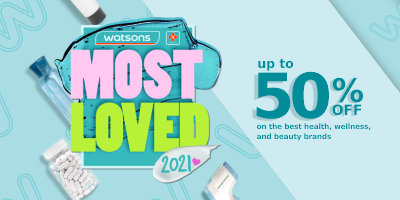 Manila-Philippines. Watsons Philippines just launched their Watsons Most Loved Sale last August 16, 2021. This is going to be your go-to-guide for all the best health and beauty products this 2021.
When the pandemic hits us, it's easy to get overwhelmed with anything and everything that is currently happening to our world. Sometimes, a quick shopping trip helps us to ease the stress that we're currently feeling but this too – is an overwhelming task that's why Watsons PH came up with a list of their best 2021 products that will help you lessen your shopping time and ease your mind.
Below are the items that Watsons PH includes on their Most Loved list in health and beauty both for store visit and online picks for the past year.
Best of Health
PHARMATON Immunity Ascorbic Acid + Zinc 1 capsule
This nutritional supplement contains Vitamin C and Zinc. Vitamin C and Zinc together help the body's natural defense against damaging free radicals (antioxidant effect) and boost immune function.
Available in Watsons Online
MOSBEAU Collagen Plus 1200mg x15 pack 50ml
Mosbeau Collagen Plus provides 12,000mg of low molecular Fish Collagen yet comes with a delicious mango-taste that's low in calorie & low in sugar. It reduces wrinkles, fine lines, & age spots while keeping the skin elastic & hydrated. Combined with Placental Protein & 10 Active ingredients, it keeps your youth, fairness, & vitality for the next 10 years.
Available in Watsons Online
Best of Beauty
MAYBELLINE SuperStay Matte Ink City Edition Liquid Lipstick - Groundbreaker
Maybelline's Superstay Matte Ink & trade, City Edition lipstick range was inspired by the attitude of NYC. This highly pigmented lip color features a unique arrow tip for precise application. Ink your lips in up to 16 hours of liquid matte color, now available in range of shades, such as saturated reds, burnt sienna's, and terracotta hues.
Available in Watsons Online
Kolours Hair Color Chesnut Brown
Infuse with vitamin E and B5 Color retention technology Surely have soft spot Enriched with natural coco essence Receives lavish protection.
Available in Watsons Online
A lot more amazing products for health and beauty are under these Most Loved sale so visit any of Watsons PH 800+ stores nationwide, shop online or shop on the mobile app to know them all.